"Rain Barrels and More"
Presents Our New
Tumbling Composters
The most ruggedly built and most durable composters
in the market place today.
Built to last a lifetime!
Toll Free: 1-877-888-5609
You can't get much "GREENER" than using recycled food grade barrels to recycle your food scraps etc. into "FREE" Homemade Compost
We only ship to the lower 48 U.S. states.
"BUT"
To accommodate our "would be" Canadian Customers

Kinek Border Shipping for Canadians
We have partnered with Kinek.com to provide a great new shipping option to our Canadian customers. Kinek has set up secure parcel receiving locations, called Kinek Points, at nearly every major border crossing between the US and Canada. Each location is located on the US side of the border and by signing up for the Kinek service and shipping to one of them, you can receive the same shipping prices as US customers. Once your package arrives, Kinek notifies you (by email, text message, or push notification) and will then store the package for up to 30 days for you. You can then drive to the KinekPoint and pick up the item at a convenient time for you. Upon pick-up, you pay a small fee, usually $5 for packages under 30lbs, far less than international shipping and brokerage fees! Some of the major cities Kinek serves are: Toronto, Vancouver, Montreal, Ottawa, Winnipeg, London, Kingston, Kelowna, Sault Ste. Marie, Saint John, Fredericton, Calgary and Cornwall.

Click here to sign up for your free Kinek account.
Single Tumbling Composter
Regular price $229.95

Our sale Price
$199.95
FREE SHIPPING


Double Tumbling Composter
Regular Price $399.00

Our Sale Price
$359.95
FREE SHIPPING



Our single composter is constructed so you can start with a single composter, and later add a second barrel to make a double composter as shown above.

"Rain Barrels and More", after several years of research and development, has finally released their 60 gallon black tumbling composter barrels. These composters are, by far, the most ruggedly built and most durable composters in the market place today. The framework of our composters are made from 2 inch by 1/8 inch rolled steel, and has rounded edges so you can move it to different locations on your property without creating gouges and scrapes in your yard. The barrel is made from a recycled food grade barrel that was imported into the US from India. It came into the country filled with delicious sweet pickles. Although the barrels have been thoroughly cleaned inside and out, having traveled many thousands of miles, they may still have some small scratches and scrapes. Although the barrels have a UV treatment built in, we apply two additional coats of a UV treatment to our composters before shipment to our customers.
Why do we use black barrels? Black absorbs heat from the sun better than any other color, and as experienced composters know, the hotter the temperature of the contents, the faster the barrels will produce finished compost. Our composters have a removable screw on lid. The composters have holes in both the top and the bottom, allowing rain water to enter the barrel and escape, after moistening the contents. The composters have a metal cross bar in the center of the barrel to break up the contents of the barrel each time it is turned. Purchase the twin composters and when one has finished compost ready to use, the second batch is on the way. Put in your "greens and browns", give the barrels a spin and you will be well on your way to making your own compost, far better than money can buy.
With the purchase of our tumbling composters, we include FREE the booklet "Home Composting Made Easy" by C Forest McDowell, Phd., and Tricia Clark McDowell. Well over a million copies have been sold. Purchased separately, without the composter, the booklet is $4.95.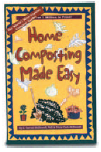 When ordering book separate from the composter, click picture above

Composter installation instructions

Click here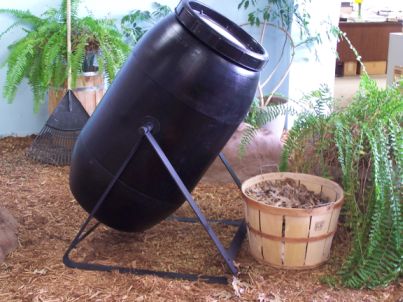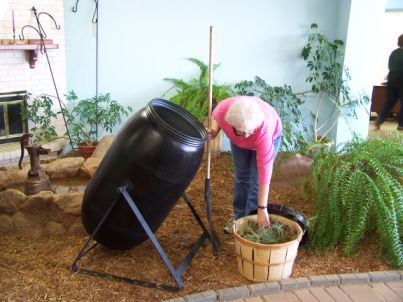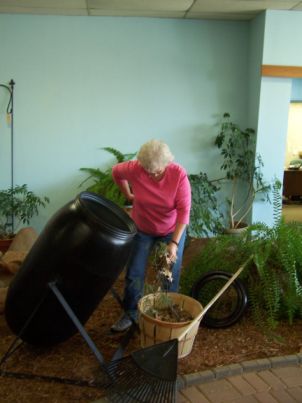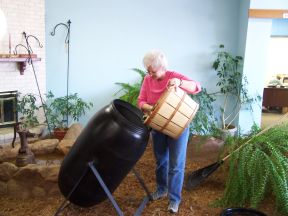 Orders can be placed by phone Toll Free @ 877-888-5609
or through our on-line shopping cart by clicking on the pictures.
We are now accepting PayPal payments on our call in orders.
CLICK HERE TO RETURN TO OUR
RAIN BARREL PAGE
Page last updated 5/30/2014